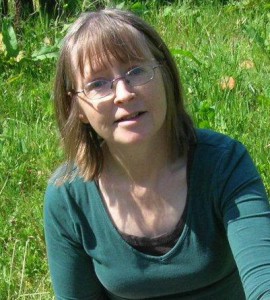 Carol McKay's short fiction and poetry are widely published in literary magazines and anthologies. She was a finalist in the Macallan/Scotland on Sunday Short Story Competition in 2002 and an extract from her unpublished novel Incunabulum Notebooks was shortlisted in the Daily Telegraph Novel in a Year Competition in 2007. She co-wrote As I Lay Me Down To Sleep, the autobiography of Eileen Munro, which was published by Mainstream Publishing in 2008. In 2010, Carol was awarded the Robert Louis Stevenson Fellowship which enabled her to spend a month at the Hôtel Chevillon artists' retreat at Grez-sur-Loing, south of Paris. She teaches creative writing through The Open University. Carol McKay's stories have been published widely over the last decade in literary magazines including Gutter, Chapman and Mslexia. Ordinary Domestic gathers them together for the first time and sets them in context with some of her wider work. You can visit her website carolmckay.co.uk and read her blog carolmckay.blogspot.com .
Ordinary Domestic was published in early 2012 and you can read an extract below and purchase it from Amazon or Kobo.
---
One of the short stories from Ordinary Domestic was published in The Herald. In 'Our Family Tradition' Carol interweaves two strands of a woman's past into this poignant piece of flash fiction. And if you follow the recipe you'll find it is just as delicious as the story.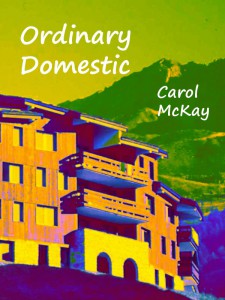 Our Family Tradition
It was the trip to the old country town that did it.
I went there for a butcher's. And a good veg shop, a traditional baker's and a stroll around the old streets where my mother used to live. I needed something familiar after the news the doctor had given me.
Warm 3oz butter and a quarter pint of milk in a thick based pan.
I used to take Stephen there when he was younger, the bus straining uphill through the farms and the miners' villages.
Add one pound of granulated sugar and stir until dissolved.
The big curly chute and the high straight one Stephen always wanted to climb the wrong way. I was torn between holding my stomach in fear and gasping in awe. Usually I banned it in a kind of early modern asbo, shooing him past the burn and the museum to the tablet shop as a bribe.
Add 4oz of sweetened, condensed milk and bring to a rolling boil. Stir to prevent sticking.
But the tablet shop's gone and so is the chute.
That's why I do my own climbing, up the shoogly ladder into the loft, my arms trembling as I heave myself in.
And here's my mother's old vanity case, oval, hard bodied, with its burgundy check sides and bakelite handle. I flick the lock. Inside, the sprigs of lavender and the flimsy pages in her familiar looping blue back hand. And the recipe I've been looking for.
The mixture turns thick and caramel coloured (15 – 20 mins). Test by dribbling a tspnful into cold water till it forms a soft ball.
Stephen says tablet's our family tradition.
Stir in 1tspn vanilla essence and beat until it loses its gloss. Pour into a lightly buttered tin and mark into squares.
I touch my breast in the darkness and wonder how I'll introduce him to our other one.
Ordinary Domestic can be purchased from Amazon

and Kobo

.
---
Creative Writing Prompts to Feed the Imagination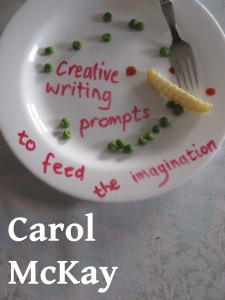 Ever feel hungry to write but can't find an idea that whets your appetite? Whether you write fiction, poetry or memoir, there's plenty here to get your teeth into.In this book, creative writing tutor and author Carol McKay shares not only some of her favourite prompts but also some of her tried and tested recipes to bringout the full range of flavours in your writing.
The exercises, one-liners, photoprompts and definitions are suitable for those working on their writing alone or in a group. Packed full of hearty ingredients, this book will really feed your imagination.
Creative Writing Prompts can be purchased from Amazon and from Kobo.