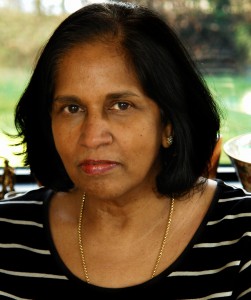 Leela Soma was born in Madras, now Chennai, in India and  lives in Scotland where she worked as a Principal Teacher in Glasgow. She won the Margaret Thomson Davis Trophy for the first 10,000 words of her first novel 'Twice Born', which was adjudicated by the author Robin Lloyd- Jones. Her short story Ayah has been published in Scottish Qualifications Authority's new 'Write Times'.  She has read a selection of her poems at the Edinburgh Fringe Festival- at the Scottish Poetry Library's Courtyard Readings. Her poem 'Light' was published in Gutter05. Other poems have been published in  New Voices magazine of the Federation of Writers, Scotland and a collection entitled 'From Madras to Milngavie.'
She was commended by Willy Maley, Professor of Renaissance Studies at the University of Glasgow in his article in 'Discovering Scottish Literature', published by Scottish Book Trust, as an emerging new writer in Scotland. She has participated at various literary events. As member of the Milngavie Book and Art Festival, she chaired the opening night events with other authors in 2010, 2011 and 2012.
Her first novel Twice Born was published in 2008 with a launch at Borders, Glasgow. It was well received and highly acclaimed.
"The strong narrative is seasoned with wit and sympathy and offers real insights into the host culture as seen from the newcomer's standpoint." Margaret Thompson
"I so much enjoyed this novel which was a real insight into the colourful Indian lifestyle both in UK and in India." Crimewriter.
"I love novels which both entertain and educate, and this does both." A.Mayer.
Her second novel Bombay Baby was published by Dahlia Publishers in 2011.  It was reviewed in The Scotsman  here and was described as " A refreshingly luminous book,"
She was commissioned to write 'Boxed In' for Glasgow Women's Library  and was featured on BBC Radio Scotland's 'The Book Café' interviewed by Louise Welsh.  Along with author Karen Campbell she discusses what inspired their writing for the 21 Revolutions Project, which was part of the  21st Birthday celebrations of the Glasgow Woman's Libray. BBC Radio Scotland – The Book Café, 04/03/2013.

Pat's Guide Glasgow West End had some nice things to say about Boxed In:
Leela speaks with feeling about the plight of many women who, even today, experience low pay and dangerous working conditions. She feels that 'it is important that the voices of such people are heard through literature'.
You can read the full account here
Leela Soma's  work reflect her experience as a first generation Indo Scot. You can learm more about Leela on her website  and her blog Tartan and Turmeric.
Boxed In is available for download for Kindle and Kobo eReaders
---